CCD 2016 Commencement Ceremony
This ceremony will include summer 2015 and fall 2015 graduates, and spring 2016 graduation candidates. Summer 2016 graduation candidates are welcome to participate in the spring commencement ceremony on May 12th. Please note that this is not your official graduation, and your name will not be printed in the commencement program. For spring and summer 2016 candidates, awards are made pending a final audit after final grades post.
Prior to the Ceremony Graduates must be in Hamilton Gym in the Ritchie Center by 6:00 p.m. for line up and last-minute instructions. Those who arrive after the processional line departs the gym or do not have their cap and gown, will forfeit the opportunity to participate in the Commencement Ceremony.
Note: Security bag checks will be conducted at the venue entrances for graduates and guests.
Pre-Commencement Information
Rehearsal
Rehearsal is on Thursday, May 12th, beginning at 10:00 a.m. in Hamilton Gym at the DU Ritchie Center. All graduates participating in commencement should attend. We will determine seating order, conduct a brief run-through of the program, show you how to play your part during the ceremony, and answer your questions. Free parking for rehearsal is available at DU in lot 108. Please enter at the north Ritchie Center Handicapped Entrance – lower level. If you cannot make arrangements to attend rehearsal please contact Jan Masters, CCD Graduation Specialist, to explore alternatives.
RSVP
Graduates should RSVP during April – check back then for a link to the RSVP form. Your RSVP is important so we know how many will attend and we can plan accordingly. It also enables us to be prepared with the name card needed to announce your award during the ceremony.
Regalia (Caps & Gowns)
The cap and gowns match our school colors of purple with a purple and gold tassel. All graduates planning to participate in commencement are required to wear the traditional cap and gown, and will not be allowed to participate without these items. Caps, gowns, and tassels must be purchased in Confluence Building – watch the website for dates, times and pricing.
Only commencement-committee-approved pins, stoles, and tassels are permitted. Graduates will be asked to remove any cords, stoles, pins, medals, or other adornments not sanctioned by the College.
Requests for approval to wear cords, stoles, or pins less than one inch in diameter must be submitted by the student or service organization's advisor or leader to the Graduation Specialist by February 1st. The request shall include the following:
Name of requester
Email contact
Organization or affiliation
Advisor/leader name
Type of item (Cord, Stole, or Pin)
Significance of requested item as it relates to achievement
The Graduation Specialist will present the request to the Commencement Planning Committee. Final approval shall be determined by Creative Services if proposed design incorporates CCD branding.
Student or service organizations will be notified of the decision within 10 business days following the Commencement Planning Committee's meeting.
Purchase and distribution of pins, cords, and stoles is the responsibility of the sponsoring honor society or college student organization.
Class Rings & Announcements
Rings are available at the bookstore through class ring representatives during planned event times. Check the bookstore website for upcoming event dates. Graduation announcements will also be available at the bookstore.
Ceremony Information
Attire
It is important to wear the proper attire under the academic regalia. Graduates should wear professional clothes such as slacks and shirt, or skirt and blouse. Please wear appropriate shoes as they show under the academic regalia.
Ceremony Conduct
Graduates, please set an example for your guests. To show respect for and to honor all our graduates, we ask participants to remain in their seats throughout the entire ceremony. Graduates will exit as a class to recessional music. Guests will exit after the recessional ends. Guests will not be allowed around the stage area during the ceremony.
For those supervising small children an open space is available at the center of the upper level behind guest seating.
Disability Provisions
Limited designated wheelchair parking space and seating for disabled guests will be available (see parking map link below). Designated handicapped parking is available for those with handicap placards. See parking map below for handicapped entrance.
Guests | Seating & Parking
Guest seating is on a first-come, first-served basis. CCD will not issue guest tickets. Select DU parking lots will be open beginning at 5 p.m. and are free of charge for attendees. Magness Arena will open at 5:30 p.m. For a parking map, please visit DU's parking information page.
Commencement Location & Parking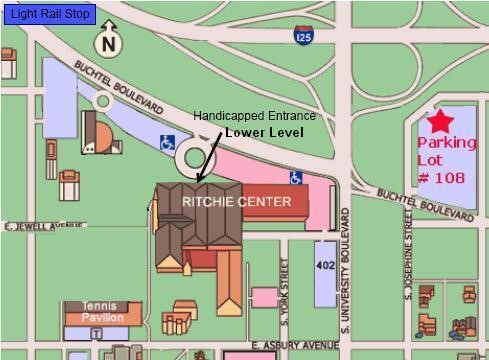 The DU Campus Light Rail Station is served by trains E and H – see RTD's schedule for route information.
Photography
A professional photographer will take photographs of you at commencement as you walk to the stage, as you receive your diploma, and as you return to your seat. Your family and friends may take photographs of you from their seats; they will not be allowed in the stage area. Approximately three weeks after commencement you will receive a photo proof and a price list from the professional photographer. You may order photographs at that time.
Additional Information
Learn more about the graduation process with the Graduation Checklist and review information about receiving your diploma.
For questions about commencement ceremony logistics, contact Admissions, Registration & Records at 303.556.2420 or ARR@ccd.edu.
For questions about announcements and class rings, contact the Auraria Campus Bookstore at 303.556.4286.
Unable to attend rehearsal? Contact Jan Masters at Jan.Masters@ccd.edu.